Delivery and pickup of Rimi e-store purchases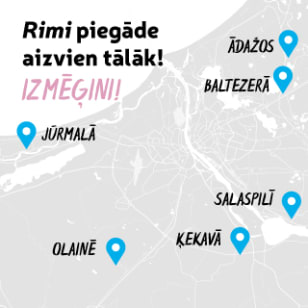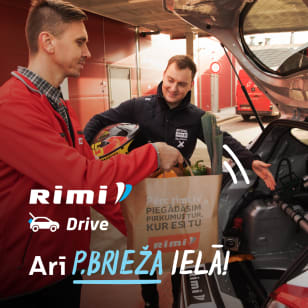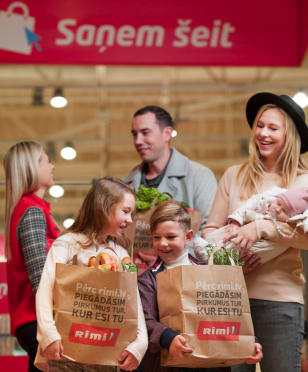 Home delivery
Every day from 8 a.m. till 10 p.m.

We will deliver the products purchased in the Rimi e-store wherever you want! When placing an order, choose the desired address, and our courier will deliver your purchases to you on the same day or at a more convenient time! You can view the delivery area map by selecting the method of purchase receipt and clicking on "Home delivery".
Rimi Drive
Every day from 8 a.m. till 10 p.m.

Receive your purchases without even getting out of the car! Enter the selected Rimi Drive and our employee will bring you your order. Receive your order even more conveniently – add your license plate number to your profile in the e-store, and we will recognize you immediately! Add the license plate number here.
In-store pickup
Every day from 9 a.m. till 10 p.m.

To receive purchases in the store, go to the store you chose in your order and search for the "Saņem šeit" point at the information center. In the terminal, enter the PIN code of your order, which you will have received in your e-mail and SMS. All you have to do is wait for a bit and a Rimi employee will bring your order!
Delivery is available in:
- Riga, Mārupe, Jūrmala,
- Olaine, Jaunmārupe, Medemciems,
- Baloži, Ķekava, Daugmale,
- Salaspils, Ādaži, Baltezers.
Rimi Drive is available in:
- SC Ozols, Mazā Rencēnu Street 1, Riga
- SC Spice, Lielirbes Street 29, Riga
- SC Aleja, Vienības gatve 194, Riga
- Rimi, Pulkveža Brieža Street 33A, Riga
In-store pickup is available in:
- SC Ozols, Mazā Rencēnu Street 1, Riga
- SC Spice, Lielirbes Street 29, Riga
- SC Aleja, Vienības gatve 194, Riga
- SC Mols, Krasta Street 46, Riga