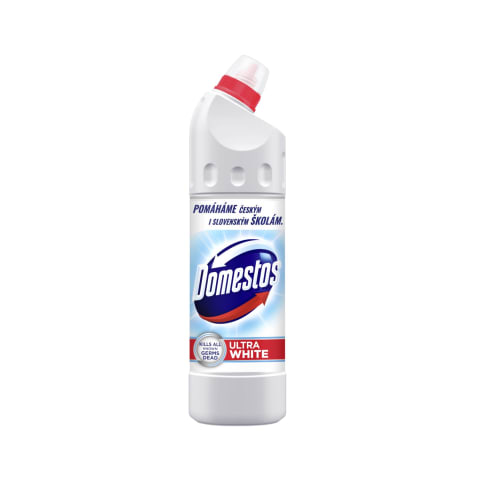 Tīrīšanas līdzeklis Domestos WC white 750ml
Maximum amount is reached
Country of origin

Romania

Brand

Domestos

Producer

Unilever Polska Sp. z o.o.

Additional contact information

UNILEVER POLSKA Sp. z.o.o., Al. Jerozolimskie 134, 02-305 Warszawa, poland.ho.reception@unilever.com, + 48225706000, http://www.unilever.pl Tel. 80200990

Amount

0.75 l
Product description
Jaunais Domestos EXTENDED POWER* ir jaunākās paaudzes tīrīšanas līdzeklis ar aktīvajām KAĻĶAKMENS novēršanas molekulām, kuras iedarbojas arī zem ūdens, lai notīrītu netīrumus un novērstu kaļķakmens veidošanos salīdzinot ar Domestos 24h plus. Ieteicams līdz: sk.uz iepakojuma (mēnesis, gads).
Ingredients
Aktīvā viela: nātrija hipohlorīts (4,5 g uz 100 g). <5% hloru saturošs balinātājs (nātrija hipohlorīts), nejonu virsmaktīvās vielas, ziepes, smaržvielas.
Instructions
VĀCIŅŠ, KO NEVAR ATVĒRT BĒRNI. Lai atvērtu: piespiest izvirzījumus vāciņa sānos un pagriezt pretēji pulksteņrādītāja kustības virzienam. Pēc lietošanas: uzlikt atpakaļ vāciņu un pagriezt pulksteņrādītāja kustības virzienā līdz tas noklikšķ. Lietot neatšķaidītu - dezinfekcijai un ilgstošai aizsardzībai pret mikrobiem: Tualetēm: uzliet zem poda malas (apmēram 80ml) un atstāt uz 15 min. Ilgstošai aizsardzībai pret mikrobiem un netīrumu noņemšanai atstāt uz nakti. Virtuves/vannas istabas notekcaurulēs: ieliet notekcaurulē, lai dezinficētu un likvidētu nepatīkamas smakas. Izlietnēm: ieliet noteces atverē, atstāt uz 15 min, tad labi noskalot. Lai tīrītu delikātas virsmas (notekcaurules, izlietnes) pārbaudiet produkta iedarbību, uzklājot to uz šīs virsmas mazāk redzamā vietā. Lietot atšķaidītu – dezinficējot grīdas un darba virsmas. 180 ml Domestos uz 5l ūdens. Nelietot uz grīdām neatšķaidītu. Trauku lupatiņu un sūkļu mērcēšanai – 90 ml Domestos uz 2,5l ūdens. Pēc tam izskalot. Lietot atšķaidītu – balināšanai: balto drēbju balināšanai: iemērcot uz nakti: 20ml Domestos uz 5 l ūdens. Pēc lietošanas izskalot. Septiskajām tvertnēm pievienot 20ml. Vienmēr izmantojiet plastmasas konteinerus. Piemērots lietošanai septiskajās tvertnēs 1 vāciņš = 15ml. PIESARDZĪBAS PASĀKUMI! Nelietot uz emaljētām vai hromētām/apzeltītām metāla virsmām; uz grīdām neatšķaidītu, vilnai, zīdam, krāsainiem audumiem, sintētiskām šķiedrām uz ādas vai apģērbiem ar īpašu apdari, piem., ugunsdrošu. Vienmēr rīkoties atbilstoši apģērba marķējumam. Pielūkojiet neizliet uz tekstilizstrādājumiem/dzīvokļa iekārtām/ paklājiem, jo radīsies bojājumi. Noplūdes vienmēr saslaucīt un pamatīgi mazgāt ar tīru ūdeni. Pēc lietošanas nomazgāt rokas.
Warning!
Ieelpošanas un norīšanas gadījumā – nekavējoties nodrošiniet medicīnisko palīdzību. Izvest cietušo svaigā gaisā, izskalojot muti ar ūdeni. ! Nelietot kopā ar citiem produktiem. Var izdalīties kaitīgas gāzes (hlors). Izraisa smagus ādas apdegumus un acu bojājumus. Ļoti toksisks ūdens organismiem. Var kodīgi iedarboties uz metāliem. Sargāt no bērniem. Turēt tikai orģinālā iepakojumā. Izvairīties no izplatīšanās apkārtēja vidē. Izmantot aizsargcimdus. Izmantot acu vai sejas aizsargus. SASKARĒ AR ĀDU (vai matiem): Noņemt/Novilkt nekavējoties visu piesārņoto apģērbu. Noskalot ādu ar ūdeni (duša).IEKĻŪST ACĪS: Uzmanīgi skalot ar ūdeni vairākas minūtes. Izņemiet kontaktlēcas, ja tās ir ievietotas un to ir viegli izdarīt. Turpiniet skalot. Nekavējoties sazinieties ar SAINDĒŠANĀS CENTRU vai ārstu. Savākt izšļakstīto šķidrumu. Atbrīvoties no tvertnes saskaņā ar vietējiem noteikumiem.
While every care has been taken to ensure product information is correct, food products are constantly being reformulated, so ingredients, nutrition content, dietary and allergens may change. You should always read the product label and not rely solely on the information provided on the website. Base price and offer may be different in other Rimi stores.