Delivery and pick-up methods offered by Rimi
Home Delivery
Every day from 8:00 to 22:00

€1.49-€3.49
(see below the delivery territory)
Rimi Drive
Every day from 8:00 to 23:00*

For free
* Please check the changes in working hours.
Pick-up at the store
Every day from 9:00 to 22:00

For free
* The minimum order amount for Rimi Drive is 10€, but for Rimi Delivery 20€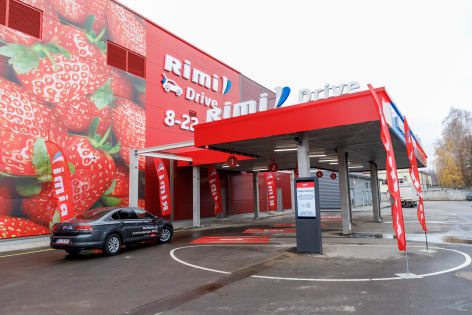 Rimi Drive
Place your order on Rimi e-store and when driving by the store receive your purchase even without getting out of your car!

Rimi Drive is available at the stores: (order pick-up available only through Rimi app.)
Rimi Akropole Alfa, Brīvības gatve 372, Rīga
Rimi Ozols, Mazā Rencēnu 1, Rīga
t/c Aleja, Vienības gatve 194a, Rīga
t/c Spice, Jaunmoku iela 21, Rīga
t/c Briedis, Pulkveža Brieža iela 33A, Rīga
Rimi Mols, Krasta iela, 46, Rīga
t/c Valdemārs, Kr.Valdemāra iela 112, Rīga
t/c Ostmala, Kārļa Zāles laukums 8, Liepāja
Rimi SM Rīgas, Rīgas iela 22, Ķekava
Home Delivery
If you are planning large purchases but are not close to the store, this is the most suitable method.
We will deliver your Rimi e-store order wherever you want! When ordering, choose your address and our courier will deliver the products on the same day or at any time most suitable for you!
See the map with the delivery territory above or when choosing the delivery/pick-up method press on "Home Delivery".

We deliver orders to addresses in:
- Rīga, Mārupe, Jūrmala,
- Olaine, Jaunmārupe, Medemciems,
- Baloži, Ķekava, Daugmale, Baldone,
- Salaspils, Ikšķile, Ogre,
- Ādaži, Baltezers, Saulkrasti, Zvejniekciems,
- Jelgava, Ozolnieki.

Buy delivery subscription for 60 days only for €5.99!

Free delivery for orders starting from €49.99!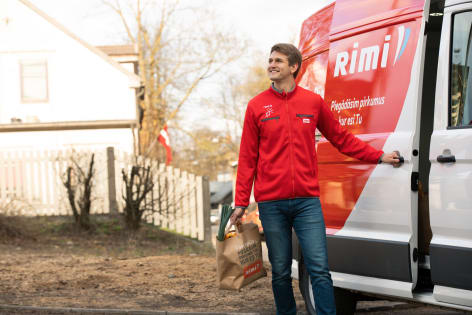 Pick-up at the store
If you are at the store but don't want to spend time on shopping at Rimi, use Rimi e-store and when the order will be ready, come and receive it at the pick-up point!

Go to "Pick-up here" ("Saņem šeit") point next to the Rimi info center.
In the terminal write your order PIN which you have received on e-mail and SMS.
Just wait a moment and our employee will bring your order!
Order Pick-up at the stores:
t/c Ozols, Mazā Rencēnu 1, Rīga
t/c Spice, Lielirbes iela 29, Rīga
t/c Aleja, Vienības gatve 194, Rīga
Rimi MR Čaka, A. Čaka iela 136, Rīga
Rimi MR Brīvības, Brīvības iela 171, Rīga
Rimi MR Bauskas, Bauskas iela 120, Rīga
Rimi MR Vaidelotes, Vaidelotes iela 11a, Rīga
Rimi MR Ganību, Ganību iela 175/177, Liepāja