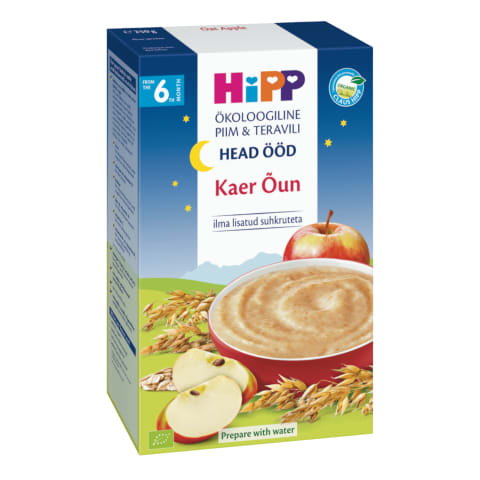 Nakts putra Hipp auzu pārslu ar āboliem BIO 250g
Maximum amount is reached
Country of origin

Croatia

Brand

HiPP

Additional contact information

www.hipp.lv, SIA "Sanitex", Liepu aleja 4, Rāmava, Ķekavas pagasts, Ķekavas novads, LV-2111, Tel. 67798667, www.sanitex.lv

Amount

0.25 kg
Product description
Auzu pārslu putra ar āboliem BIO, no 6 mēnešu vecuma. Neto masa: 250g. *no bioloģiskām saimniecībām. Uzturvērtība 100g pulvera (190g gatavas porcijas): enerģētiskā vērtība 1805kJ/ 429 kcal (903kJ/ 214kcal), tauki 12,0g (6,0g) - tostarp piesātinātās taukskābes 3,8g (1,9g), ogļhidrāti 64,6g (32,3g) - tostarp cukuri* 42,0g (21,0g), šķiedrvielas 4,0g (2,0g), olbaltumvielas 13,6g (6,8g), sāls** 0,63g (0,33g), nātrijs 0,25 (0,13g), kālijs 900mg (450mg), hlorīdi 400mg (200mg), kalcijs 450mg -113%** (225mg - 56%**), fosfors 430mg (215mg), magnijs 85mg (42,5mg), dzelzs 3,5mg -58%** (1,8mg -30%**), cinks 2,7mg -68%** (1,4mg -35%**), varš 0,15mg (0,075mg), jods 66μg -93%** (32,5μg - 47%**), selēns 14μg (7,0μg), A vitamīns 350μg -88%** (175μg -44%**), D vitamīns 7,0μg -70%** (3,5μg -35%**), E vitamīns 5,0mg (2,5mg), K vitamīns 18μg (9,0μg), C vitamīns 40mg -160%** (20mg -80%**), B1 vitamīns 0,85mg -170%** (0,43mg -86%**), B2 vitamīns 0,98mg -123%** (0,49mg -61%**), niacīns 1,9mg (0,95mg), B6 vitamīns 0,32mg (0,16mg), folskābe 55μg (27,5μg), B12 vitamīns 1,4μg (0,7μg), pantotēnskābe 3,6mg (1,8mg), biotīns 15,0μg (7,5μg), linolēnskābe (omega-3-taukskābe) 0,23g (0,12g). * aprēķināts no dabīgo sastāvdaļu daudzuma. **% no uzturvielu atsauces vērtības (NRV). Ar kalcijs un D vitamīns - normālai kaulu un zobu attīstībai, cinks un A vitamīns - sekmē normālu imūnās sistēmas darbību, jods-svarīgs vairogdziedzera darbībai, C vitamīns - sekmē dzelzs uzsūkšanos, omega-3 taukskābes (ALA) svarīgas smadzeņu un nervu sistēmas šūnām, prebiotikās šķiedrvielas (GOS) uztur veselīgu zarnu mikrofloru. Nesatur krāsvielas, aromatizētājus un konservantus (kā to nosaka likums). Ieteicams līdz: skatīt uz iepakojuma.
Ingredients
PIENA maisījums 40%  (VĀJPIENA pulveris  daļēji demineralizēts, VĀJPIENA pulveris , augu eļļas  (palmu eļļa , rapšu eļļa , saulespuķu eļļa), rīsu milti *, C vitamīns,dzelzssulfāts, cinka sulfāts, vitamīns E, niacīns, pantotēnskābe, vitamīns B1,A vitamīns, B6 vitamīns, B2 vitamīns, kālija jodāts, folijskābe, vara sulfāts, vitamīs K, nātrija selenāts, dvitamīns, biotīns), graudaugu pārslas * (13% pilngraudu AUZAS *, pilngraudu KVIEŠI *, KVIEŠI*), daļēji demineralizēts SŪKALU pulveris * , 8% ābolu sulas koncentrāts * ar zemu skābes saturu, VĀJPIENA pulveris *, ābolu ekstrakts, kalcija karbonāts, vitamīns B1, A vitamīns, D vitamīns.Bioloģisko izejvielu izcelsme: Lauksaimniecība ES un ārpus ES
Instructions
Šī piena putra ir ideāla maltīte mazuļiem, kas uzsāk piebarojumu no 6 mēnešu vecuma. Katrs mazulis ir citāds, tāpēc porciju lielums var būt atšķirīgs. Pagatavošana: 1. Uzvāra svaigu dzeramo ūdeni un atstāj atdzist līdz apm.50C. 2. Pievieno šķīvī vēlamo daudzumu putras pulvera (saskaņā as tabulu). 3. Nomēra, pievieno vajadzīgo ūdens daudzumu un samaisa. 4. Ļauj putrai dažas minūtes uzbriest līdz vajadzīgajai konsistencei. Kontrolē temperatūru. Dozācijas tabula: Katrs mazulis ir atšķirīgs, tāpēc porciju daudzums var atšķirties. No 6 mēn. (190g porcija) - ūdens 140ml vārīta, atdzesēta līdz 50C pirvienojiet 55g pulvera (aptuveni 5 ēd.karotes), visu rūpīgi samaisa. No 8 mēn. (210g porcija) 155ml vārītam, atdzesētam līdz 50C ūdens pievienojiet 55g (5 ēd.k.), visu rūpīgi samaisa. Mazākai porcijai (175g porcija) - 120ml vārīta, atdzesēta ūdens pievieno 45g pulvera (4 ēd.k.).
Additional information
Min storage temp.: 15° C

Max storage temp.: 25° C
| Nutrition | Amount per 100g/ml |
| --- | --- |
| energy | 1834 kJ/ 435 kcal |
| fat | 12.2 g |
| of which saturates | 4.1 g |
| carbohydrate | 67.9 g |
| of which sugars | 40.9 g |
| protein | 12.5 g |
| salt | 0.6 g |
Warning!
Satur glutēnu. Bērna veselībai svarīgi, lai putras pagatavošanai tiktu ievērota pagatavošanas instrukcija un paredzētās devas. Vienmēr barojot ar piena putru, izmantojiet karoti un katrreiz svaigi pagatavotu maltīti. Nesildiet putru mikroviļņu krāsnī (iespējama applaucēšanās!). Katrreiz pēc lietošanas putras kārbu kārtīgi aizveriet. Pēc kārbas atvēršanas izmantot 3-4 nedēļu laikā. Sākot ar mazuļa pirmo zobu, regulāri jāveic zobu tīrīšana, pēc zobu tīrīšanas bērnu vairs nebarot. Lūdzam pievērst mazuļa sabalansētam uzturam un veselībai augšanas laikā.
While every care has been taken to ensure product information is correct, food products are constantly being reformulated, so ingredients, nutrition content, dietary and allergens may change. You should always read the product label and not rely solely on the information provided on the website. Base price and offer may be different in other Rimi stores.